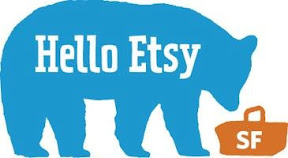 There's a small business symposium happening right here in San Francisco in less than 2 weeks that's going to be focusing on how we can help grow our micro-economies. That symposium is
Hello Etsy
!
Our amazing partner,
California College of the Arts
will be hosting this one day conference on Sunday September 18th at their SF campus. Tickets may be sold out, but there is a wait list that you can sign up for on the
Event Brite
, along with a few alternate ways to participate in this global conference!
1) Watch the event LOCALLY at TechShop SF
You all remember what wonderful hosts the folks at
TechShop SF
were for our launch event,
Craft Party 2011
! They love hanging with the makers in San Francisco so much that they've invited us to check out the Hello Etsy Conference - Livestreamed via satellite!
More details here
!
2) Watch the 2-day conference GLOBALLY
Yes, it's true! We have the technology to bring the various talks from our
Hello Etsy event right to your computer screen
via the Etsy Online Labs. There are several Hello Etsy events happening around the USA while the main event goes on in Germany. Check out the
speakers and the schedule here
!
3) Throw your own Hello Etsy PARTY!
Creatives around the globe unite under the same roof to make awesomeness happen all the time - why should Hello Etsy be any different? Feel free to
check out this link
for helpful tips on how to make the most happening
Hello Etsy shindig
at your place with a few of your closest crafty homies!
Those are just a few ideas for right now, but STAY TUNED for more info about the rad resources that Hello Etsy will be providing to our amazingly creative community in the next couple of weeks!
In the meantime, please share some of your insights below:
What do you do to help grow your micro- economy? I.e. Shop locally, source from other Etsy sellers, do supply swaps in your neighborhoods..?
We'd all love to hear about the best resources in San Francisco!